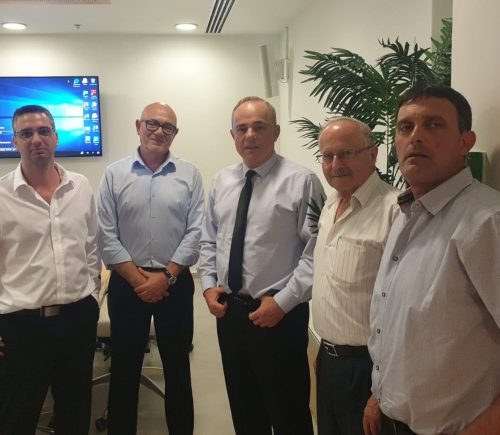 REM's management held a meeting with the Minister of Energy, Dr. Yuval Steinitz
The managing partners of the REM Limited Partnership met on Monday, September 23, 2019 with the Minister of Energy, Dr. Yuval Steinitz, and the Oil Commissioner, Mr. Yossi Wurtzburger, and presented the minister with the project regarding generating oil and electricity from oil shale and sorted plastic waste, while providing an environmental solution to a growing problem: the landfilling of plastic waste.
REM is a public limited partnership which is committed to transparent reporting to the public, its investors and stakeholders. More information regarding the partnership's activities on the stock exchange can be found on the stock exchange's information website.
Ynet
The company that strives to profit from the plastic problem in Israel
Sponser
Tomorrow's News: From Plastic to Energy
Israel HaYom
The State will invest 30 million NIS in recycling plastic
Sponser
REM Limited Partnership signed an agreement for the joint mining of oil shale with mining rights holder in Mishor Rotem
Bizzness
A land whose rocks are iron, and copper will be mined from its mountains
Calcalist
Eitan Cabel has been appointed a Director in the REM Partnership
Sponser
REM: The oil and electricity generation facilities in Mishor Rotem are expected to bring in $ 99 million a year
Globes
Reduce the landfilling of waste in favor of energy generation
Calcalist
"I have already taken upon myself most of the risks, investors will benefit from the upside"
Globes
Production is still far off, but Rotem Energy is nearing financial closure
Sponser
The electricity output that can be generated from oil shale and waste is greater than expected
TheMarker
The partnership leading an environmental revolution in the generation of energy from plastic
Globes
REM partnership will produce oil and electricity from oil shale and plastic waste.
Bizportal
– A new partnership on the Tel Aviv Stock Exchange: REM Limited Partnership has completed capital raising of over 28 million NIS.
International Mining
Enefit deal with Rotem Energy Mineral will help herald development of Israel's vast oil shale reserves
Offshore Technology
Enefit plans Israeli shale-gas-to-oil plant